eHealth
Saturday - 6th April 4pm
1.5 CPD Points available
eHealth is an area that has promised to deliver new efficiencies and abilities in providing medical care. This session will explore the benefits and challenges in eHealth development in Ireland as well as the significant advances undertaken in Ireland which makes us one of the leaders in this industry.
Implementation issues in eHealth – Mr Rowan McGrath, Representative of Health ICT Group and Head of Government and Health, BT
Where are we at, and where could we be? This speaker will look at the barriers to adopting eHealth applications, and to identify what is required to keep up the momentum of implementation to ensure that we are not left behind.
Apps in Medical Care in Ireland – Prof Declan Lyons, Medical Director at Doctot and Professor of Medical Science at University of Limerick 
This session will look at the role of Apps in delivering medical care, and their growing use as reference tools in clinical settings. This topic will be delivered by a leading producer of medical apps in Ireland who will discuss the explosion of Apps in medicine, from education to clinical decision making.
Assistive Technologies: Their development and role in independent living – Mr Andrew MacFarlane, Commercialisation & Centre Manager, CASALA, Dundalk Institute of Technology
Assistive Technologies are providing new opportunities for people with disabilities or who require assistance in independent living. This session will explore the approach to developing assistive technologies and some of the latest advances in Ireland.
Biographies of Speakers
Mr Rowan McGrath
Rowan is head of BT's Public Sector and Health business in the Republic of Ireland. He also chairs the Health ICT Industry Group, established in mid-2009, to report on the role that Healthcare ICT can play in delivering a world class health system to the citizens of Ireland. The group comprises representatives from over 30 companies engaged in the Healthcare ICT sector ranging in size from large multinationals to SMEs. The Group's report – "ICT's Role in Healthcare Transformation" was presented to Minister Reilly in May 2011.
Rowan joined BT in 2002. He started his career as a Public Servant and spent ten years as an officer in the Defence Forces, serving overseas with the UN in Lebanon. He holds a degree in Electronic Engineering from University College Galway and a MSc from University College London.
Married with four children, his interests include running, cycling, golf and gardening.
Prof Declan Lyons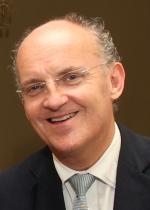 Declan Lyons MSc FRCP FRCPI MD
Department of Medicine, University Hospital Limerick, Dooradoyle , Limerick, Ireland
Professor of Medical Science & Consultant Physician.
Graduate of UCD 1987 and did his house jobs at the Mater Dublin before taking an MSc in Clinical Pharmacology at the University of Aberdeen. He worked as Registrar in Medicine at Aberdeen Teaching Hospitals and took his MD thesis at The University of Aberdeen in 1992. He moved to King's College Hospital London in 1994 as Lecturer and subsequently Senior Lecturer in Medicine for Elderly & Honorary Consultant Physician. He moved to his current post in his native Limerick in 1997. He is former chairman of the Expert Advisory Group on Ageing to the HSE. He is Director of Clinical Academic Affairs at University of Limerick Graduate Entry Medical School and an adjunct Professor of Therapeutic Science at NUIG. He founded of Doctot Apps in 2008 and is Co-Clinical Lead for Acute Medicine in the Mid West Hospital Group.
Research interests are in the areas of pharmacology of ageing and vascular pharmacology with particular clinical research interests in syncope, hypertension, nitric oxide biology, osteoporosis and osteovascular instability. Recent work has centred on the elucidation of the pathogenic mechanisms that underlie various syncopal syndromes eg orthostatic hypotension, variants of carotid sinus syndrome. More recently a common pathogenic relationship between bone strength, skeletal muscle activity and blood vessel function in old age (osteovascular instability) is the subject several studies by Prof Lyons' group. He has recently headed the development of a large number of Clinical Apps in conjunction with groups such as WHO/IOF and GOLD.
Mr Andrew MacFarlane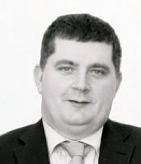 Director CASALA Centre, Dundalk Institute of Technology
Andrew is director of the Centre for Affective Solutions Ambient Living Awareness (CASALA) at DkIT, since its foundation in 2009. Andrew manages the centres industry, research and commercialisation engagements in connected health, ambient assited living and emerging technologies that enhance the quality of life and wellbeing of older people and those who care for them. Andrew is also an entrepreneur with an extensive background in technology businesses, particularly within the field of healthcare informatics