Keynote Addresses

Dr Ronan Boland gave his outgoing Presidential address on the first afternoon of the AGM, Thursday 12th April at 2.30pm, before the chain of office was handed over to incoming President and Public Health doctor, Paul McKeown.
Please click here for the Outgoing President's Speech
On Friday afternoon, Chief Executive of the IMO, Mr George McNeice addressed the conference. 
Please click here for the Address by Chief Executive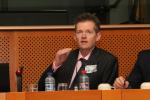 On the evening of Saturday 14th April at 7.30pm, the IMO's President for 2012-13, Dr Paul McKeown addressed attendees prior to the conference Gala Banquet.
Please click hear to view and read Dr McKeown's speech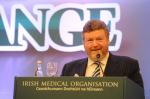 The Minister for Health, Dr James Reilly, provided a brief address to delegates attending the Gala Banquet on Saturday evening.