History of William Doolin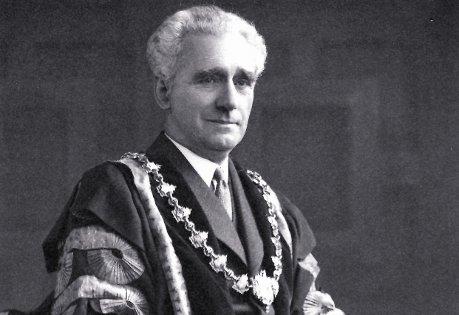 William Doolin
William Doolin
"No great man lives in vain, the history of the world  is but the biography of great men" (Thomas Carlyle, 1795-1884)
On June 19th 1887 at 20 Ely Place, Marion (nee Creedon) wife of Walter G. Doolin, a Dublin architect was delivered of their first child, a boy then named William.
William's first school was the Marist Fathers' Catholic University School in Leeson Street from where he went as a boarder to St Mary's College, Dundalk.
In March 1902, William's father died and William was sent to Clongowes Wood College and was placed in Rhetoric, the senior class.
It was in Clongowes that Doolin developed his interest in literature and languages and learned the art of oratory. From his earliest years he made many contacts with the eminent men of his day and devoted as much attention to the study of humanities as he did later to the study of medicine.
Having matriculated at the Royal University of Ireland in the autumn of 1904, William registered at the University Medical School in Cecilia Street. William passed the First Arts examination (mandatory for medical students) and the First Medical examination in 1905, the Second andTthird medical examinations in 1906 and 1907.
The second reading of Augustine Birrell's Irish Universities Bill was taken on 11th May 1908 and it was at the newly-created National University of Ireland's spring examinations for MB, BCh, BAO in 1910 from which William Doolin emerged with first-class honours.
William Doolin placed his name on the medical register on 22nd June 1910 and took up the post of House Surgeon at St Vincent's to the great "Johnny Mac". During his post-graduate year in St Vincent's he became the "fidus Achates" of this renowned and colourful character in Irish surgery. It is worth noting here that Doolin was more commonly known as Bill,  in both his professional and personal life.
He left Dublin for a post-graduate tour in 1911 and worked for three years in Edinburgh, London and the Continent in the clinics and company of the famous leaders in surgery. He spent much of his spare time perfecting French and German in the cultural and Bohemian quarters of Europes' historic cities. During his holidays he wandered through the hinterlands of France and Germany straying to the furthest cities of the Austro-Hungarian Empire and down through Northern Italy. He visited almost as a religious duty, the shrines of medicine in Padua, Bologna, Montpellier and Salerno, and in the northern cities of Leiden and Louvain. During these idyllic times, he re-lived some of medical historys' finest moments.
He became a fellow of the Royal College of Surgeons in Ireland, (RCSI), in 1912 and by the following year, had started a practice at 9 Upper Fitzwilliam Street, eking out the lean period by demonstrating in anatomy in Cecilia Street and giving dental anaesthetics.
In 1917, William Doolin became Extern Surgeon to St Vincent's Hospital, Visiting Surgeon in 1928 and Visiting Surgeon to the Children's Hospital, Temple Street, in 1932, he was also devoted to the indigent folk of the Liberties.
He joined the Council of the RCSI in 1932, became Secretary to the College in 1936 and held Presidential office from 1938 to 1940.
William Doolin was always considered a splendid teacher, inclined to be spectacular; there was a good deal of the actor in his make-up.
His impeccable technique and attention to detail led him to succeed where others failed in the treatment of cleft palate. His work on this condition in the pre-antibiotic and almost pre-anaesthetic days attracted the attention of the illustrious Parisian surgeon - Victor Veux (1871 - 1949) who ultimately adopted some of Doolins' techniques and referred to him frequently in his publications. Doolin was also the first to describe the treatment of acute dilatation of the stomach and paralytic ileus by means of a suction tube and was the first to perform the Smith-Peterson operation on a fractured hip.
To match these considerable talents, he also displayed considerable athletic prowess as a strong swimmer and scratch golfer. He umpired regularly at Fitzwilliam Lawn-tennis Club for international matches.
In July 1915, William Doolin married Clare Kennedy from Inchicore, and moved to 52 Fitzwilliam Square.  Some time later they moved to 2 Fitzwilliam Square, where the couple reared five children, and where Bill Doolin lived for the remainder of his life. 
In 1937, Clare died leaving her husband desolate. Time healed the wound and re-marriage in 1942 to Maureen Clinton, theatre-sister in Temple Street Hospital, brought fresh happiness. His second wife bore him two sons.
During the years that followed, William Doolin continued to combine surgical excellence and enterprise with a love of history and appreciation of literature, complementing these talents with his unforgettable personality. No Irish doctor has born more clearly the "Oslerian" stamp.
In 1925, he was appointed to the editorial chair of the Irish Journal of Medical Science and in 1952, he accepted the editorship of the Journal of the Irish Medical Association. As an editor, he was enabled to develop his talents as a writer and editorials, reviews and abstracts flowed from his pen.
The editorials which month after month he wrote in the Journals, and which afterwards he collected in his book "Wayfarers in Medicine" attracted the attention of all lovers of literature and of medical history. They remain to this day shining jewels of clarity and good writing.
His love for the profession, for its ethics and for its welfare caused him on occasion to use his pen as a surgeon might use his knife in the eradication of cancer and neither patients nor politicians were enamoured by this technique. He would not however allow his integrity to be influenced where he felt the occasion needed the bold approach.
Professional honours fell gracefully upon his shoulders in the latter years of his life. He became President of the Royal College of Surgeons in Ireland, Honorary Fellow of the Royal College of Surgeons of England; he received Doctorates in Literature in both Universities in Dublin and was appointed Professor of History of Medicine in University College Dublin.
William Doolin left us for greater glory on 14th April 1962.
His life and work must surely serve as an example of a master whose spirit has encouraged those of the younger generation,
"To seek for newer and broader roads and so to discover still firmer truths"
Of Doolin, it may be said those wonderful lines which Thucydides put on the lips of Pericles at the grave of the Athenian dead,
"The whole world is the tomb of great men. Neither is their graven only on stone which cover their day, but abideth everywhere without visible symbol, wrought in the stuff of other men's lives".