Dr Ina Kelly IMO President 2021/2022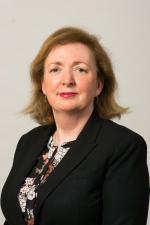 Dr Ina Kelly is President of the Irish Medical Organisation 2021/2022
Dr Kelly studied Medicine in NUIG, and she trained in General Practice in the Australian Family Medicine Programme before returning to Ireland. On her return, she worked in  public health / community health, and she gained marvellous experience in so many areas including community child health, child protection, physical and intellectual disability services, and in general, identifying community unmet need and finding solutions.  She did her MPH and decided to train in Public Health Medicine which she did in Cork mostly, as well as Tullamore, and Dublin. The final part of her training was working as a Consultant in the WHO in Geneva, evaluating the global burden of foodborne diseases programme.  This involved working with many international colleagues including with CDC in Atlanta.
In recent years she has specialised mainly in Environment and Health work, as Chair of the Public Health Medicine Environment and Health Group. Prior to Covid-19 her main areas of work include climate change adaptation, given the massive potential health impacts of this 21st Century existential threat.  She is representing Health on the Adaptation Committee of the Climate Change Advisory Council, is a member of the National Adaptation Steering Group of the DECC, and is the climate change medical spokesperson in the RCPI.
Ina has been involved in many aspects of interpreting and advocacy on Ireland's Medical Officer of Health (MOH) legislation and its lawful basis in respect of the GDPR including with the Department of Health.  This work proved essential as thorough understanding was needed to explain the legal basis of PHM data use and sharing during Covid-19, without which PHM could not investigate and control Covid-19.  Covid-19 continues to provides enough of a challenge without that!
Ina, as Chair of the Public Health Doctor Committee worked with her colleagues to campaign for the introduction of consultant status for public health medicine. This issue was finally addressed and agreement was reached between the IMO, Department of Health and HSE in April 2021.
Ina became President of the IMO on 17th April 2021.
List of Past Presidents
| | |
| --- | --- |
| 2019/2021 | Dr Padraig McGarry |
| 2018/2019 | Dr Peadar Gilligan |
| 2017/2018 | Dr Ann Hogan |
| 2016/2017 | Dr John Duddy |
| 2015/2016 | Dr Ray Walley |
| 2014/2015 | Prof Trevor Duffy |
| 2013/2014 | Dr Matthew Sadlier |
| 2012/2013 | Dr Paul McKeown |
| 2011/2012 | Dr Ronan Boland |
| 2010/2011                                     | Prof. Seán Tierney |
| 2009/2010 | Dr John Morris |
| 2008/2009 | Dr Martin Daly |
| 2007/2008 | Dr Paula Gilvarry |
| 2006/2007 | Dr Christine O'Malley |
| 2005/2006 | Dr Asam Ishtiaq |
| 2004/2005 | Dr James Reilly |
| 2003/2004 | Prof. Joe Barry |
| 2002/2003 | Dr Kate Ganter RIP |
| 2001/2002 | Dr Mick Molloy |
| 2000/2001 | Dr Liam Lynch |
| 1999/2000 | Dr Fenton Howell |
| 1998/1999 | Dr Tony Hynes |
| 1997/1998 | Dr Neil Brennan |
| 1996/1997 | Mr. Hugh Bredin |
| 1995/1996 | Dr Henry Finnegan |
| 1994/1995 | Dr Declan Bedford |
| 1993/1994 | Dr Seamus Healy |
| 1992/1993 | Dr Cormac Macnamara RIP |
| 1991/1992 | Dr Cormac Macnamara RIP |
| 1990/1991 | Dr Cormac Macnamara RIP |
| 1989/1990 | Prof. Cillian Twomey |
| 1988/1989 | Dr Chris Mc Namara RIP |
| 1987/1988 | Dr Kenneth Egan |
| 1986/1987 | Dr Kenneth Egan |
| 1985/1986 | Dr Phelim Donnelly |
| 1985 | Dr Robert Carroll RIP |