Dr Peadar Gilligan IMO President 2018/2019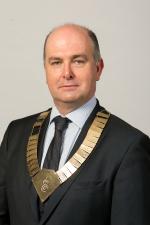 Dr Peadar Gilligan is President of the Irish Medical Organisation 2017/2018
Dr Peadar Gilligan qualified from University College Dublin in 1992 with an honours degree. He undertook general medical training in Beaumont Hospital and Letterkenny General Hospital. He completed both a Medical scheme and Paediatric scheme. His paediatric training was in Our Lady's Hospital Crumlin, and the Rotunda. He trained in emergency medicine in James Connolly Memorial Hospital and completed a Specialist Registrar scheme in Emergency Medicine in the United Kingdom where he was Trainee Representative for the Yorkshire Deanery.
He is a specialist in Emergency Medicine and subspecialist in Paediatric Emergency Medicine. He holds membership of the Royal College of Physicians in both the United Kingdom and Ireland in adult and Paediatric medicine. He is a Fellow of the College of Emergency Medicine and holds Diplomas in Child Health and Immediate Medical Care. He was awarded Gold Medals in Paediatrics from University College Dublin and in Immediate Medical Care from the BASICs Group of the Royal College of Surgeons in Edinburgh. He holds a Master's degree in Medical Education from Sheffield University.
He is a Consultant in Emergency Medicine at Beaumont Hospital and Chairperson of the Resuscitation Advisory Group in Beaumont Hospital. He is the tutor for the Emergency Medicine Registrars at Beaumont Hospital. He directs Advanced Trauma Life Support courses and Advanced Cardiac Life Support Courses. His publications include a series of 14 reviews of the literature relevant to Emergency Medicine. Dr Gilligan's research interests include Telemedicine, service delivery, crowding of acute hospitals manifesting in the Emergency Department, renal colic, MRSA, injury, resuscitation and critical care. His research has won prizes at the Irish Association of Emergency Medicine Conference on a number of occasions. He has supervised MSc Students and students performing special study modules.
His research has been presented at many national and international meetings. He is principal investigator for the Ambulance Telemedicine research of the LiveCity Project which is a multi-national study involving many European countries in developing and evaluating telecommunication applications in Medicine, administration and education funded by the European Commission
List of Past Presidents
| | |
| --- | --- |
| 2017/2018 | Dr Ann Hogan |
| 2016/2017 | Dr John Duddy |
| 2015/2016 | Dr Ray Walley |
| 2014/2015 | Prof Trevor Duffy |
| 2013/2014 | Dr Matthew Sadlier |
| 2012/2013 | Dr Paul McKeown |
| 2011/2012 | Dr Ronan Boland |
| 2010/2011                                     | Prof. Seán Tierney |
| 2009/2010 | Dr John Morris |
| 2008/2009 | Dr Martin Daly |
| 2007/2008 | Dr Paula Gilvarry |
| 2006/2007 | Dr Christine O'Malley |
| 2005/2006 | Dr Asam Ishtiaq |
| 2004/2005 | Dr James Reilly |
| 2003/2004 | Prof. Joe Barry |
| 2002/2003 | Dr Kate Ganter RIP |
| 2001/2002 | Dr Mick Molloy |
| 2000/2001 | Dr Liam Lynch |
| 1999/2000 | Dr Fenton Howell |
| 1998/1999 | Dr Tony Hynes |
| 1997/1998 | Dr Neil Brennan |
| 1996/1997 | Mr. Hugh Bredin |
| 1995/1996 | Dr Henry Finnegan |
| 1994/1995 | Dr Declan Bedford |
| 1993/1994 | Dr Seamus Healy |
| 1992/1993 | Dr Cormac Macnamara RIP |
| 1991/1992 | Dr Cormac Macnamara RIP |
| 1990/1991 | Dr Cormac Macnamara RIP |
| 1989/1990 | Prof. Cillian Twomey |
| 1988/1989 | Dr Chris Mc Namara RIP |
| 1987/1988 | Dr Kenneth Egan |
| 1986/1987 | Dr Kenneth Egan |
| 1985/1986 | Dr Phelim Donnelly |
| 1985 | Dr Robert Carroll RIP |