Social Media - Apr 2013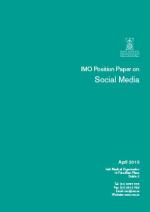 Social media and other interactive online applications are dynamic and constantly evolving dimensions in modern society. These applications often cross public and private domains, inextricably linking both professional and personal lives.
It is often easy to forget or disassociate the online environment from being a public arena, particularly while it may just be you using your PC, smartphone or tablet. However, you should always be mindful that the content you generate on sitescan reach a public domain regardless of your intention for the information to be public or private.
This guidance is aimed at doctors and medical students who interact with social media and other online platforms both professionally and personally to remain fully aware of the both the positive and negative implications of their online actions.
The IMO recommends the following:
• Avoid adding/accepting your patients and their relatives into social networks
• Only add/accept people that you know and trust into your personal social network.
• Avoid posting content regarding patients. No content on social networking sites should ever reference patients or their specific case.
• If any content you post leads to the identification of the patient without their consent it may be considered to be a breach of confidentiality.
• Always take a conservative approach when posting content anywhere on the internet.
• Ensure you have the appropriate settings on your account to a level that you are comfortable with and always bear in mind the limitations of such settings.
• If you are unhappy with content that appears about yourself, take action to correct it.
• If you become aware of something regarding a colleague and you have concerns regarding their professional conduct, bring this to their attention to be dealt with.
• Defamation can extend to the internet.
• Routinely check your own internet presence to ensure that you are satisfied that the information about you is accurate and appropriate, particularly if that information is not posted directly by you.
• Give serious consideration to how you present content online, particularly if you are discussing professional matters online but in a public context. 
File Type: PDF
Size: 736.2K bytes
Document added: 21 August 2018, 14:58