IMO Position Paper on Universal Health Coverage - Apr 2010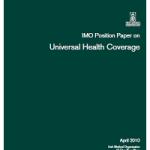 Ireland's health care system faces a number of challenges namely that of access to services, inequity and sustainability. Recently universal health insurance has been a central issue in political debate. The IMO paper lays out the principles that should form the backbone of a chosen system of universal health care regardless of the model of funding as follows:
Universality - Access to adequate healthcare for all
Services that are free at the point of access
Equity of access
Solidarity
Transparency
Quality of care and value for money
Choice and mobility
Clinical autonomy
Efficiency
Affordability
Sustainability.
File Type: PDF
Size: 359.2K bytes
Document added: 21 August 2018, 14:58