IMO Policy Paper on Mental Health Services - Nov 2010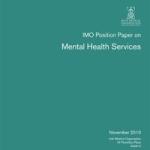 In 2010, the IMO surveyed GP and Consultant Psychiatrist members to find out the major issues affecting the treatment of patients with mental health illness. Doctors are frustrated that patients continue to be treated in antiquated institutions inappropriate to their needs and community mental health teams are inadequately staffed for the provision of holistic multidisciplinary care.
Mental health disorders affect one in four people each year and have a profound impact on individuals, families and society. The cost to the economy in terms of lost output, healthcare and other costs, is estimated at over €3billion, yet just 5.2% of the health budget in 2010 was allocated to Mental Health Services. In 2006, A Vision for Change set out policy for Mental Health Care including the transfer of services to the community setting, yet change has remained just that - "a vision". With the current economic crisis and rising unemployment, the value of good mental health and good Mental Health Services must be recognised. Members of the IMO are now urgently calling for the Minister for Health and Children to replace rhetoric with action and implement effective, sustainable Mental Health Policy.