IMO Call on all NCHDs to Engage For Change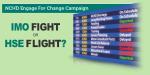 The Irish Medical Organisation today [Monday, 15th August 2011] launched a campaign calling on all Non Consultant Hospital Doctors to 'Engage for Change'.
Dr. Mark Murphy, IMO NCHD Chairman said; "Over the past eighteen months the Irish Medical Organisation has been highlighting the issues concerning NCHDs at every level within the HSE; Department of Health & Children and the Health Minister."
"However, it is quite evident from the significant public debate on the NCHD shortage that NCHDs are extremely frustrated working for the HSE given how that organisation disregards their contractual and legal rights, their training and their future careers in Ireland."
Dr. Murphy said; "While NCHDs are unhappy working within the current system they believe that ultimately it will be patients who will suffer the most in the short medium and long term."
"This current and future generation of the medical profession are not going to stand idly by and watch the health services being eroded due to a lack of foresight on the side of the HSE and the current Government. "
Dr. Ronan Boland, IMO President said; "For centuries Ireland has had an excellent reputation for having some of the best trained doctors worldwide. We have watched successive governments curtail access to the health service by reducing bed capacity and manpower. However, we cannot tolerate the expertise and care patients currently receive once they enter the system to be diminished. The standard of care and medical expertise we currently provide must be protected."
Dr. Boland said; "This campaign is calling on all NCHDs to Engage for Change, to join with the IMO in the fight to ensure that the Irish Health Service can attract the best in their field, provide excellent training, defined career paths and the highest standard of patient care and safety."
The Campaign commences today with a three week period of NCHD hospital meetings running from Monday August 15th 2011 to Friday 2nd September 2011. Dr. Murphy called on all NCHD IMO members and non members to attend these meetings.
The IMO will also conduct a detailed Engage for Change Benchmark survey of NCHDs in the coming weeks.