IMO Student Debate 2010
The Inaugural Irish Medical Organisation Student Debate took place on Friday 3rd of December at 7pm in the Royal College of Surgeons.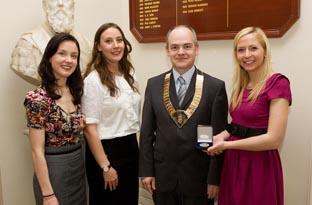 The Motion debated was:
"This House believes the current system of entry to Medical Schools ensures the best doctors for the future"
Proposing the Motion from University College Dublin was Michael Conroy, from University College Cork was Darko Skrobo and Tom Branigan from the Royal College of Surgeons, Dublin.
Opposing the Motion from Trinity College was Niamh Irving, from the University of Limerick was Eibhlin Healy and Amy Barber from Queens University, Belfast.
The event was chaired by Dr Ronan Boland, Vice-President of the Irish Medical Organisation. The judges were Dr Kate Ganter, past-president of the Irish Medical Organisation, Mr Fergal Bowers, Health Correspondent, RTE and Mr Ray Gordon, Managing Director, Gordon MRM. The Opposing Team won the debate and Amy Barber was awarded the medal for best speaker.