Doolin Memorial Lecture 2016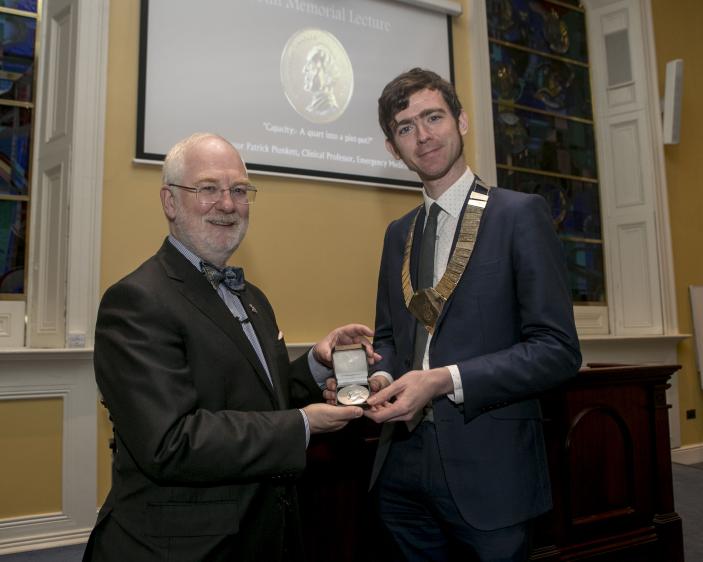 Doolin Memorial Lecture 2016
Guest Speaker - Professor Patrick Plunkett, Clinical Professor, Emergency Medicine
"Capacity:- A quart into a pint-pot?"
The IMO was delighted to have Professor Patrick Plunkett as this year's guest speaker at the Doolin Memorial Lecture.
A graduate of UCD, Professor Plunkett was appointed Consultant in Emergency Medicine in St James's Hospital in 1988. He is a Founding Fellow of the Faculty of Accident and Emergency Medicine - now the Royal College of Emergency Medicine and was on the Education and Examination Committee of the Faculty for over 20 years.
Professor Plunkett was appointed Medical Director of the Hospital in 2015 until his recent retirement.

Annual Doolin Lecture hosted by the IMO
Leading consultant in Emergency Medicine highlights 1980s policy decisions as root of today's overcrowding crisis in Irish hospitals.
Warns of future challenges with doubling of number of people over the age of 85 over coming 15 years
Professor Patrick Plunkett, one of the most eminent specialists in Emergency Medicine in Ireland, has identified the lack of beds in public hospitals as the fundamental reason for the continuing overcrowding crisis in Irish hospitals. 
Professor Plunkett, who retired as Medical Director of St. James Hospital in Dublin in 2015 and who was a Founding Fellow of the Faculty of Accident and Emergency Medicine in Ireland was speaking at the annual Doolin Lecture in Dublin on Saturday.  The Doolin Lecture is hosted by the IMO in December of each year in honour of the late Professor William Doolin.
In his lecture, Professor Plunkett identified a reduction of 33% in the number of beds in Irish hospitals between 1980 and 2000 (bed numbers reduced from 17,665 to 11,832) and a further 13% reduction in the number of acute hospital beds between 2005 and 2015 at a time when the Irish population was both increasing and aging as the key cause of today's continuing crisis,
Professor Plunkett also warned that these trends were continuing with a further 13% increase in population forecast within the next 15 years and a doubling of the number of people aged over both 85 and 65 with a linked rise in demand for hospital admission.
Professor Plunkett also spoke about what has now become an annual "Winter Crisis".  Professor Plunkett said that the key factor in this annual event was not weather related but was directly linked to the rise in elective surgeries that takes place in the weeks and months following the Summer holiday period when such elective procedures fall noticeably.  This rise in procedures has a clear link to the a reduction in available beds for admission through A&E.
Professor Plunkett called for increased investment in public health services.  He noted that political pressure linked to raising waiting lists typically led to calls to divert public funding streams to support work in the private sector rather than by long term funding in the public sector.  Professor Plunkett cited a recent example whereby a shortage of endoscopes and endoscope washers in public hospitals led to delays in procedures and missed targets which led, in turn, to calls for the purchase of endoscopy services from the private sector.  He said; "unless we invest in our public health service, we are doomed to repeat the mistakes made before."