Prof Trevor Duffy, Dr Ray Walley and Dr Patrick O'Sullivan - IMO Budget Submission Press Conference - 18th September 2014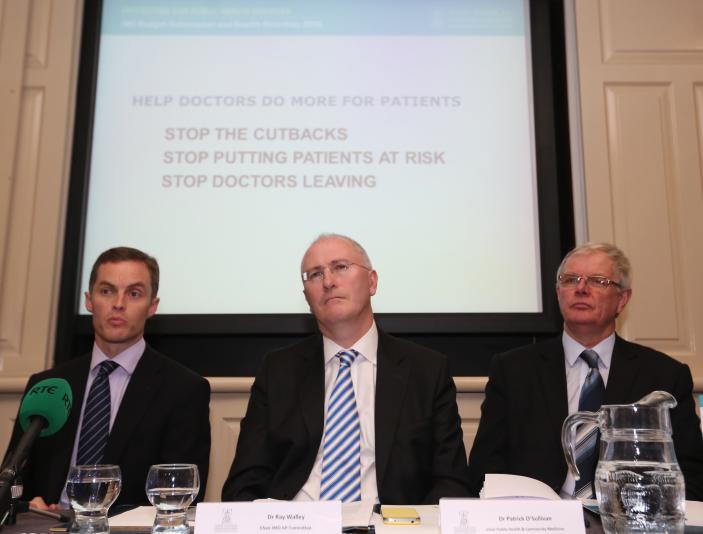 IMO Budget Submission and Health Priorities
The IMO held a Special Briefing for all TDs and Senators on HEALTH PRIORITIES and IMO BUDGET SUBMISSION on Thursday, 18th September in Buswells Hotel, Dublin.
Over 50 TDs and Senators met with the IMO President and your elected representatives from the IMO National Specialty Committees representing GPs, Consultants, NCHDs and Public and Community Health Doctors.
We fully briefed the politicians on the reality of our health services today and the very real crisis we face in terms of patient services and patient safety which is a direct consequence of years of cutbacks to General Practice, Public Hospitals and Community Services.
Our key message is that our health services need more funding, not a transfer of funding from one sector of the service to another, the service has been starved of resources for too long, services are at breaking point and patients are suffering– LESS IS BEING DONE WITH LESS

File Type: PDF
Size: 2.2M bytes
Document added: 21 August 2018, 16:17
File Type: PDF
Size: 398.6K bytes
Document added: 21 August 2018, 16:17
Press Release - IMO President warns that "patient safety being compromised as a result of extent of health cuts of recent years"
Pre budget submission details 5 critical steps which must be taken.

Thursday 18th September 2014. The President of the Irish Medical Organisation (IMO), President Trevor Duffy, has warned that patient safety is being compromised across the health services as a directly result of the impact of successive budgetary cuts in recent years Professor Duffy was speaking at the publication of a Pre-Budget submission by the IMO and following a special briefing by members of the IMO for members of the Oireachtas.

Professor Duffy said there were widespread concerns amongst professionals in the health services that the situation was now at a critical point; "I think everyone in the health services has watched with frustration in recent months at how the debate on the health budget is seen almost like a spectator sport by the political class when it is actually a matter of life or death for many people in the system. We are close to a point where the damage to the infrastructure of our health services will be so great that it will take decades to repair and we simply can't bequeath this crisis to the next generation. We must act now."

In its pre-budget submission, the IMO points out that the health budget has been cut by €4 billion since 2008 which has meant:

• Staffing levels are down 12,200
• Bed numbers are down by 900
• Waiting lists are increasing across all specialities
• Services to patients are being cut
• Patients are being levied over €450 million in out of pocket payments
• And the proportion of spending on health in Ireland was not the lowest of the traditional 15 EU states.

The IMO Pre Budget Submission details 5 immediate steps which the organisation believes must be taken to protect patient safety. These are:
1. Increase funding and staffing levels across all sectors (Hospitals, General Practice and Community Services) to stabilise the system.
2. Ensure sufficient funding to allow patients be treated in safety
3. Commit that any cost containment measures will be rigorously assessed against risk to patient safety and long term impact before commencement.
4. Introduce GP Care which is free at the point of access in a sustainable and equitable manner based on income levels and medical need with introduction of chronic disease care packages.
5. Immediately abandon all co-payment models such as prescription charges which are proven to be detrimental to long term health and disproportionally affect the most vulnerable in society.
Professor Duffy said that every section of the service was now "crying out for attention". He said "our doctors are leaving the country out of frustration and that's now as true of established GPs and Consultants as it is of doctors at the early stage of their career. We need to decide now if we want to be part of a society that provides a health system which can offer the people of this country the kind of world-class care that they expect or if we are going to settle for a fractured service that is detrimental to the long term health of our nation"