Group Scheme Protection
The IMO established three protection products which have been created with the financial needs of the medical profession in mind.
Life Cover is designed to protect your family financially if you die.
Income Protection is a type of insurance that pays you a regular income to replace your salary if a disability, illness or accident prevents you from working. You are covered until recovery, until you can return to work or until your 65th birthday. Benefits stop in the event of your death.
Pension protection safeguards your future GMS pension contributions if you suffer from long-term illness or disablement that prevents you from working.
Please click below if you require further information on Income, Life Protection or GMS Pension Protection.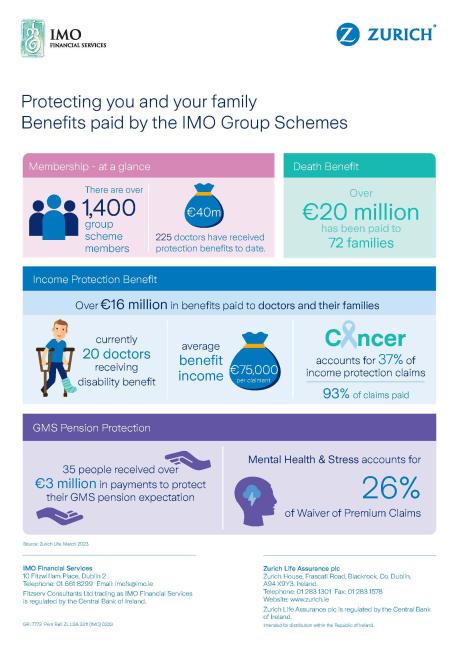 File Type: 10.15-GROUP-SCHEME-BROCHURE.PDF
Size: 523.4K bytes
Document added: 17 October 2018, 11:19
This is a life insurance scheme designed to protect your family financially if you die.
Especially designed for IMO members, the scheme protects you by providing you and your family with an alternative source of income should disability prevent you from working.
Protects your salary that combines life cover and income protection into one streamlined product offering. Especially designed to reflect the standard needs of doctors
This product is specifically designed for doctors such as newly qualified GPs, locum GPs or private consultants who do not benefit from any employer sick pay arrangements or doctors who have HSE earnings as well as substantial private earnings.
This is a bespoke insurance product designed to protect the GMS pension for GPs.