Group Scheme Protection
IMO's bespoke group scheme products have been created with the financial needs of the medical profession in mind. Please click below if you require further information on Income, Life Protection or GMS Pension Protection.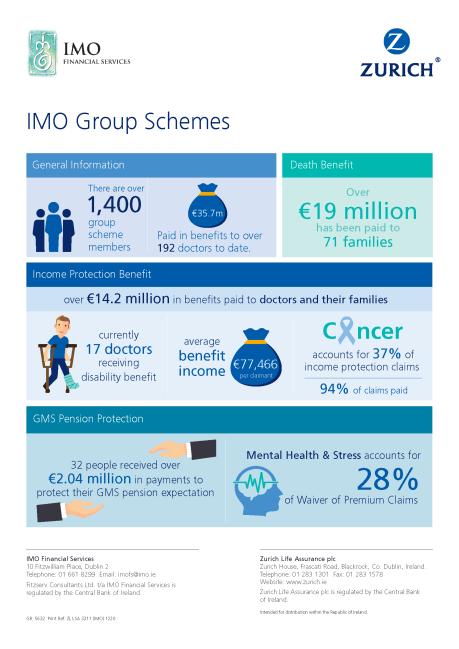 File Type: 10.15-GROUP-SCHEME-BROCHURE.PDF
Size: 523.4K bytes
Document added: 17 October 2018, 11:19
Especially designed for IMO members, the scheme protects you by providing you and your family with an alternative source of income should disability prevent you from working.
This is a life insurance scheme designed to protect your family financially if you die.
Protects your salary that combines life cover and income protection into one streamlined product offering. Especially designed to reflect the standard needs of doctors
This is a bespoke insurance product designed to protect the GMS pension for GPs.
Testimonials
"You don't think it will happen to you, but when diagnosed with terminal cancer, having permanent health protection is one less worry, as you try to sort out what appears to be the final chapter of your life.
You don't think it will happen to you but when you recover somewhat and attempt a partial return to work, having permanent health insurance is one less worry as you try to rebuild confidence and stamina.
You don't think it will happen to you but when modern treatments prolong survival beyond your wildest dreams, having permanent health insurance to supplement your part-time work income becomes a significant building block in recovery.
Taking out a permanent health insurance policy is the single best financial investment I have ever made. Thank you, IMOFS and Zurich, for making it all so painless and possible."
GP
"When I first started working as a GP, I joined the IMO group income protection scheme for peace of mind. Then in 2015 I was diagnosed with breast cancer. I underwent three surgeries and chemotherapy and was unable to work. All I had to do was fill out a form for my income protection and IMOFS took it from there. Having income protection meant I had no financial worries for myself or my family while I was sick and I was able to recover fully before I returned to work. I was off for two and a half years altogether and I felt very supported by IMOFS and the income protection insurance company who put no pressure on me to return to work until I was ready. I would strongly recommend having income protection as you never know what the future can hold."
GP