IMO Pension Protection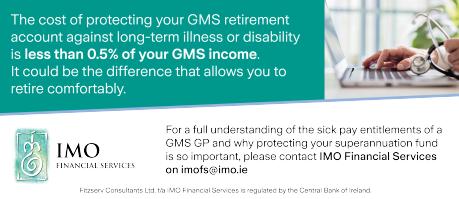 File Type: 05.15-PENSION-PROTECTION-(WOP)-FLYER.PDF
Size: 465.6K bytes
Document added: 17 May 2021, 10:42
What does the scheme do?
This is a bespoke insurance product designed to protect the GMS pension contributions for GPs. In the event of you suffering long-term illness or disablement, the scheme will continue making pension contributions into your GMS retirement account ensuring that you preserve your income at retirement
Who can join?
Any GP who is in receipt of GMS income and is under age 60.
Deferred period
The minimum deferred period is 52 weeks. For those over age 64, the deferred period reduces to one month
Benefit & Cost
The cost, including 1% Government levy, is 3% of the monthly GMS superannuation contribution and premiums are deducted through GMS capitation.
Benefits
The benefit pays out a sum equivalent to the total GMS pension contribution (10% + 5%) at the time of being disabled or suffering a long-term illness.
Tax relief
You may be eligible for tax relief on the premiums paid at your highest rate of tax.
Contact imofs@imo.ie for more information.
Please note: All applications are subject to underwriting and all claims are subject to the insurer's assessment. Terms and Conditions as set out in the policy document apply.