Group Income Protection Scheme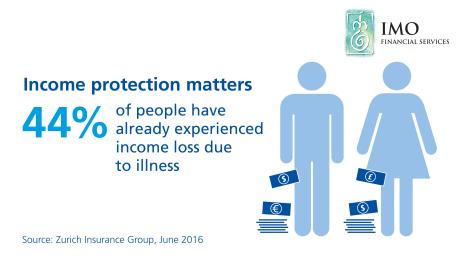 File Type: 10.17-INCOME-PROTECTION-FLYER.PDF
Size:á224.0Kábytes
Document added: 22 October 2018, 09:02
What does the scheme do?
Especially designed for IMO members, the scheme protects you by providing you and your family with an alternative source of income should disability prevent you from working.
Who can join?
Individual doctors may propose for cover – the only stipulation being that you are under 55 joining the scheme. Entry may be subject to underwriting.
Benefits cease on recovery, return to work, death or 65th birthday.
Dovetailing of the public sector sick pay arrangements
For public sector employees, the IMO income protection group scheme will commence payment from the day you no longer receive full rate sick pay from your employer. Please note that since historic sick leave will count towards the deferred period dovetailing will apply from day one.
This applies to members employed by the HSE as well as GPs with any GMS income. GPs with GMS income will receive payment on the same terms as for public sector employees.
Members with private income only
For members with private income, 50% benefit will be paid after a 13-week continuous deferred period and the full benefit will be paid after 26-week continuous deferred period.
Effectively, this means that the scheme will facilitate the payment of benefits earlier than before, in line with members' needs.
Increase of cover with no underwriting
You can now alter your cover without further underwriting following certain income increasing events such as becoming a GP/Registrar or a consultant.
Benefit indexation
Cover will automatically increase by 5% each year. The premium will also increase by 5% annually unless otherwise instructed.
Tax Relief
You may be eligible for tax relief on the premiums paid at your highest rate.
Escalation of claims during payment
Benefit payments increase in line with the Consumer Price Index or 3% per year, whichever is less.
Cover
Maximum cover of 75% of pre-disability income (may include overtime of up to 50% of basic pay) less any early retirement pension, temporary rehabilitation remuneration or other income protection entitlements.
Working Abroad
If you decide to work abroad, your cover can continue as long as you keep paying your premiums.
You can get cover for working within the EU, Switzerland, USA, Canada, Australia, New Zealand, South Africa or Saudi Arabia.
Please note: All applications are subject to underwriting. Contact one of our dedicated financial advisers for more information