Why safeguarding your GMS pension contributions matters
Have you ever wondered what you would do if you suddenly became ill and couldn't work? For many GPs they have income protection in place that will support them through to their retirement. But what is often overlooked is that the GMS (General Medical Services) Superannuation Plan will cease paying your pension contributions if you suffer a long term disablement or illness. This will lead to a shortfall in your pension fund at retirement, if you remain disabled and unable to return to work. Waiver of Premium is an insurance product designed to prevent this happening and safeguard your GMS pension.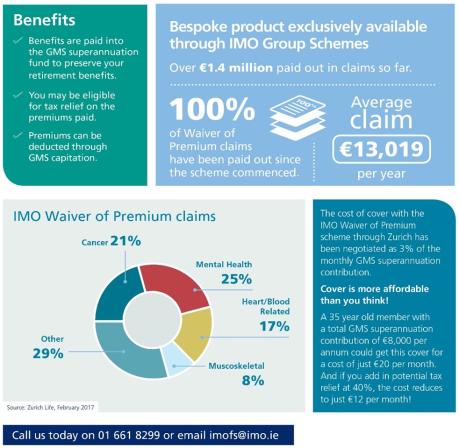 Fitzserv Consultants Ltd. t/a IMO Financial Services is regulated by the Central Bank of Ireland. Zurich Life Assurance plc is regulated by the Central Bank of Ireland. Intended for distribution within the Republic of Ireland.The information contained herein is based on Zurich Life's understanding of current Revenue practice as at March 2017 and may change in the future.